"Lee's music shows that she is a considerable talent, capable of creating vivid musical images."
Andrew Clements, The Guardian, 03/2013
"the imaginative and rigorous writing of Joanna Lee, whose 'Chansons Innocentes', assured and confident in the composition, would have flattered any composer, let alone a student . . . one of the most successful [commissions] I have ever heard in 40 years of reviewing."
Christopher Morley, Birmingham Post, February 02/2008
"pitched at an astonishing high level of technical finesse"
Hewitt, Telegraph, 06/2010
"sharply witty music by Joanna Lee."
Rupert Christiansen, Telegraph, 08/2010
Described by The Guardian as "a considerable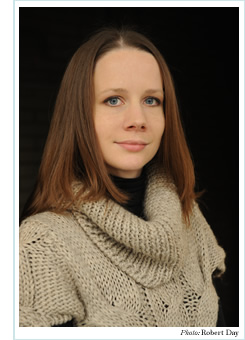 talent", performances of Joanna Lee's works include London Symphony Orchestra, English National Opera, BBC Singers, Opéra National de Paris, Birmingham Contemporary Music Group, BBC Proms, Orchestra of the Swan, London Music Masters, Nicholas Daniel, Royal Swedish Opera and Aldeburgh Festival.
Joanna has received two BBC Proms commissions, including works for the BBC Singers and BCMG to mark Pierre Boulez's 90th birthday, recordings of her work by London Symphony Orchestra and NMC, and a commission for Aldeburgh Music Club to celebrate 60 years since their founding by Benjamin Britten, which was also performed for Aldeburgh's Britten Centenary celebrations. She composed English National Opera's first children's opera (2014) directed by Katie Mitchell, a community opera (2017) for 1,000 performers for Surrey Arts, and a second children's opera (2019) for Opera Up Close that toured to 70 UK theatres and schools. Recent commissions include a set of songs for primary school children as part of Britten Pears Arts' Friday Afternoons project, and a piece for London Symphony Orchestra for their under 5s concerts.
Joanna gained a PhD in composition at the Royal Birmingham Conservatoire and was awarded Honorary Membership for outstanding achievement. She was tutored by Oliver Knussen, Richard Causton, Edwin Roxburgh and Joe Cutler. Joanna was BCMG Apprentice Composer-in-Residence 2012/13 and studied on the Britten-Piers Contemporary Composition course, LSO Panufnik scheme, Jerwood Opera Writing Course and at L'Académie du Festival d'Aix. She was shortlisted for a British Composer Award and awarded the PRSF Composers' Fund, John Clementi Collard Fellowship, Stephen Oliver Award and the Sue Knussen Composition Bursary in memory of Oliver Knussen.

(email: info@joannalee.co.uk)