"Lee's music shows that she is a considerable talent, capable of creating vivid musical images."
Andrew Clements, The Guardian, 03/2013
"the imaginative and rigorous writing of Joanna Lee, whose 'Chansons Innocentes', assured and confident in the composition, would have flattered any composer, let alone a student . . . one of the most successful [commissions] I have ever heard in 40 years of reviewing."
Christopher Morley, Birmingham Post, February 02/2008
"pitched at an astonishing high level of technical finesse"
Hewitt, Telegraph, 06/2010
"sharply witty music by Joanna Lee."
Rupert Christiansen, Telegraph, 08/2010
Described by The Guardian as "a considerable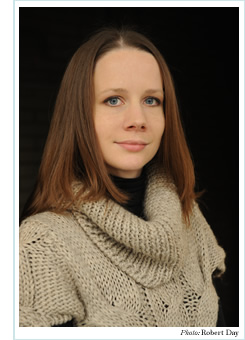 talent", Joanna's compositions have been shortlisted for a British Composer Award and Arts Foundation Opera Composition Award, featured in Premieres of the Year in Classical Music magazine and her first chamber opera received the Stephen Oliver Award. She is the 2013 recipient of the John Collard Clementi Fellowship.
Joanna is currently working on a new commission for English National Opera. She was BCMG/SAM Apprentice Composer in Residence for 2012/2013, mentored by Oliver Knussen. Recent projects include a commission for EXAUDI, a Jerwood Opera Fellowship and a residency at Aldeburgh composing a choral piece for Aldeburgh Music Club to celebrate 60 years since their founding by Benjamin Britten.
Performances include London Symphony Orchestra, BCMG, Psappha, CHROMA, Orchestra of the Swan, EXAUDI, Elysian Quartet, Leigh Melrose, Loré Lixenberg, Jane Manning, Sarah Leonard and Omar Ebrahim, Joby Burgess and the Fidelio Trio in the Aldeburgh Festival, Park Lane Group Young Artists Series and Ultraschall Festival in Berlin.
Joanna has studied on the Britten-Pears Contemporary Composition Course, LSO Panufnik Scheme and Jerwood Opera Foundation Course. She is completing a PhD in composition at Birmingham Conservatoire and was awarded Honorary Membership by the Conservatoire in 2013 for significant contribution to her field of profession.

(email: info@joannalee.co.uk)